Holt's Food Center IGA
Recipes
https://holtsfoodcenter.iga.com/Recipes/Detail/6358/Cheddar_and_Mushroom_Breakfast_Squares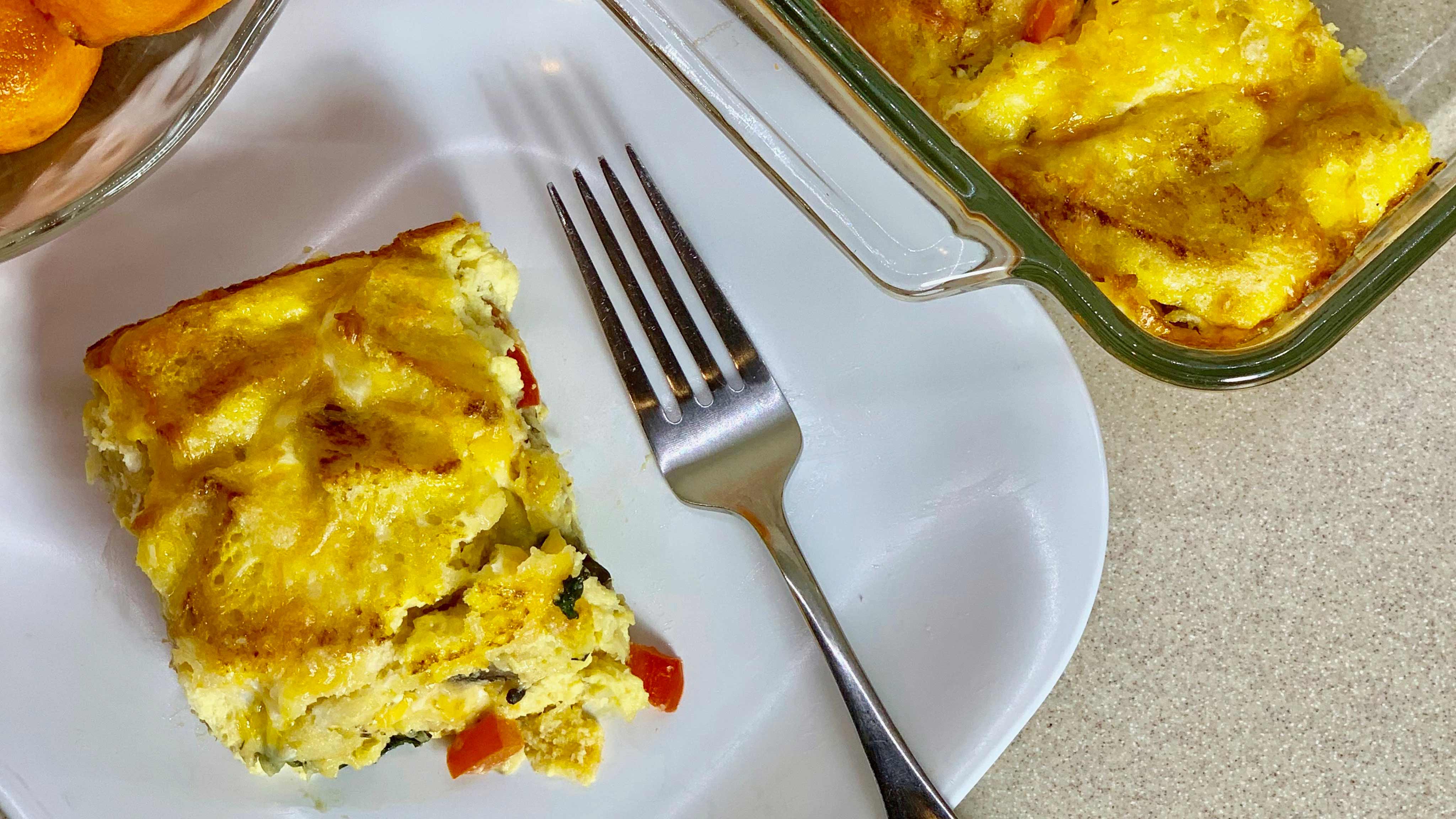 Cheddar and Mushroom Breakfast Squares
Customer Rating:
1 Ratings 0 Comments
Yield: 9 servings
Preparation Time: 20 min; Cook: 45 min
Ingredients
3
tablespoons

butter, divided

6
slices

sourdough bread, crusts removed and cut into 1 inch cubes (4-5 cups), divided

1 1/2
cups

coarsely chopped mushrooms

1/2
cup

red bell pepper, diced

1/2
teaspoon

dried thyme

1/4
teaspoon

black pepper

1 1/2
cups

fresh spinach, stems removed

2
cups

(8 ounces) shredded, cheddar cheese (divided)

8

large eggs

1 1/2
cups

milk
Directions:
Preheat oven to 350 degrees F

Spray an 8 x 8-inch square glass or ceramic baking dish with cooking spray; set aside.

In a medium skillet over medium heat, melt 2 tablespoons butter. Add the bread cubes and toss in the skillet until toasted and golden brown, about 5 minutes. Pour the bread into a bowl and set aside.

Wipe out the skillet with a paper towel. Melt the remaining 1 tablespoon butter over medium heat. Add the mushrooms and red peppers and saute for 3 minutes; stir in the thyme and pepper. Remove from the heat. Add the spinach and gently stir until wilted, about 1 minute.

Place half of the bread cubes in a single layer in the baking dish. Sprinkle with half of the cheese. Add the mushroom mixture evenly over the top. Add the remaining cheese and bread cubes.

In a medium bowl, whisk together the eggs and milk and pour over the contents in the baking dish.

Bake for 45 to 50 minutes until top is puffy and golden brown. Let cool for 10 minutes; cut into squares and serve.
Note:
This recipe can be made ahead and covered and refrigerated for 8 to 10 hours before baking.

You can create recipe variations by using other vegetables.

Recipe, photo and food styling by Webstop

Please note that some ingredients and brands may not be available in every store.
Holt's Food Center IGA
Recipes
https://holtsfoodcenter.iga.com/Recipes/Detail/6358/