Holt's Food Center IGA
Recipes
https://holtsfoodcenter.iga.com/Recipes/Detail/9040/Garden_Herbed_Cheesecake_with_Mandarin_Orange_Glaze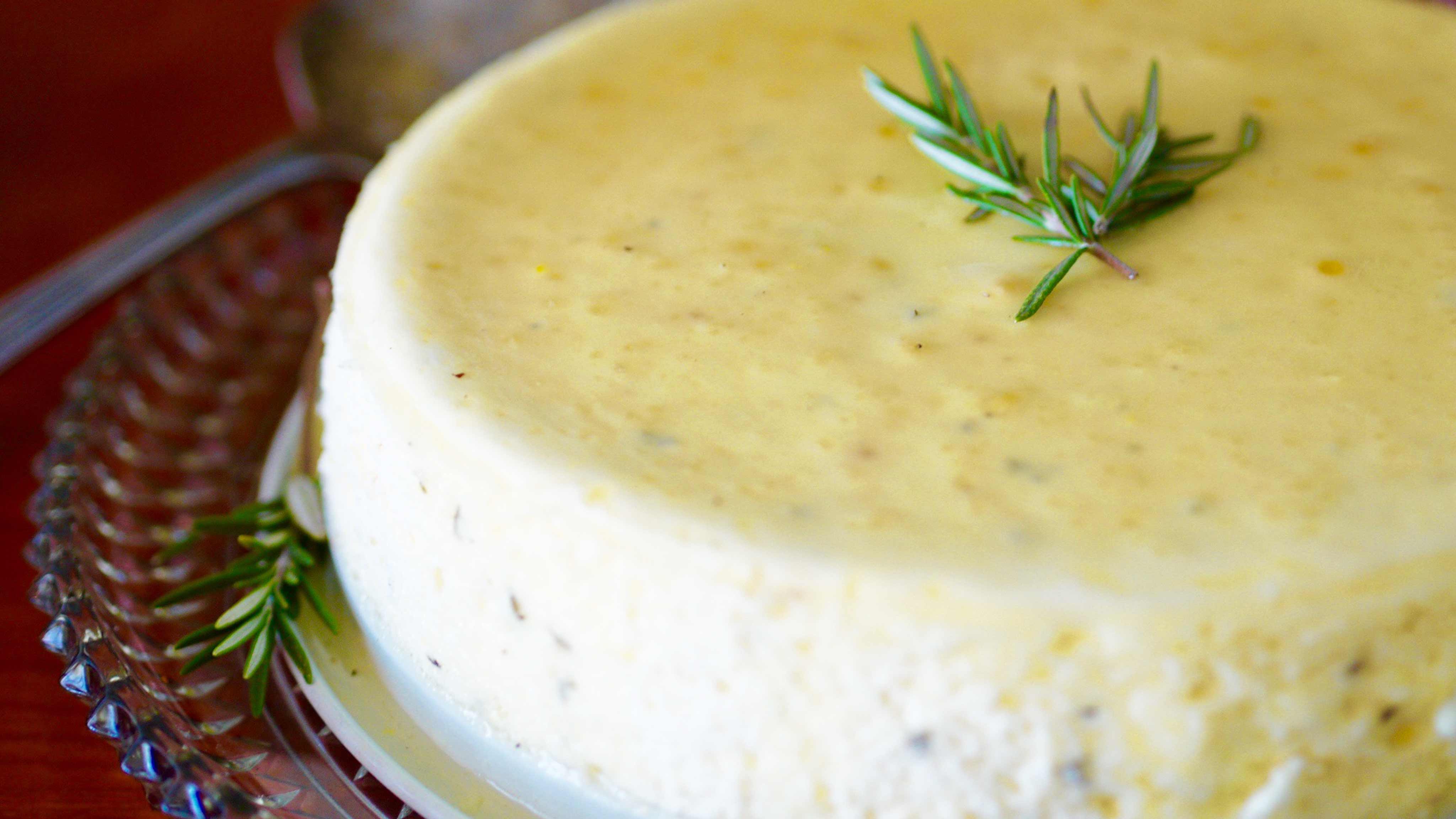 Garden Herbed Cheesecake with Mandarin Orange Glaze
Customer Rating:
not rated
0 Ratings 1 Comment
Yield: 10-12
Preparation Time: 15 min; Cook time: 2 hours 15 min
Ingredients
For the Cheesecake:

3
8 ounce package

cream cheese, room temperature

1
8 ounce contain

mascarpone cheese, room temperature

1/2
cup

sour cream, room temperature

1
cup

sugar

1/4
cup

all purpose flour

1
teaspoon

coarse salt

3

eggs, room temperature

2

egg yolks, room temperature

1/2
cup

chopped fresh herbs, such as thyme, basil, rosemary, parsley, and oregano

1
teaspoon

fresh mandarin juice and zest

1/4
teaspoon

freshly ground black pepper

boiling water

For the Glaze:

1/4
cup

sugar

1
tablespoon

cornstarch

10

mandarin oranges, zested and juiced

2
springs

fresh rosemary, for garnish
Directions:
For the Cheesecake:

Preheat oven to 300 degrees F.

Prepare 9-inch spring-form pan by wrapping outside of pan tightly with 3 layers of heavy-duty foil. Using paddle attachment on an electric mixer, beat cream cheese, mascarpone, sour cream, and sugar until smooth. Add flour and salt. Add eggs and egg yolks, one at a time, beating until incorporated after each addition; use a spatula to scrape down the sides of the bowl in between additions. Gently mix in fresh herbs, lemon juice, lemon zest, and black pepper. Pour batter into prepared spring-form pan. Place pan into large roasting pan; add enough hot water to roasting pan to come halfway up sides of spring-form pan.

Bake cheesecake until set, but center moves very slightly when pan is gently shaken, about 2 hours. Turn off oven and crack oven door open to allow cheesecake to cool, about 1 hour. Remove cake from oven and from roasting pan; cool 1 more hour at room temperature. Refrigerate uncovered overnight. Can be prepared 4 days ahead. Cover and keep refrigerated.

For the Glaze:

Combine sugar and cornstarch in a small saucepan over medium-high heat. Whisk in mandarin orange juice, stirring until any clumps of the cornstarch are dissolved. Cook for 5 minutes, stirring occasionally to assess the thickness of the glaze. Remove from heat and let sit. Pour glaze over the chilled cheesecake. Garnish with fresh rosemary sprigs.
Photo and food styling by Webstop
Please note that some ingredients and brands may not be available in every store.
Holt's Food Center IGA
Recipes
https://holtsfoodcenter.iga.com/Recipes/Detail/9040/